/////////////////////////////////////////////////////////////////

/////////////////////////////////////////////////////////////////
https://www.srf.ch/sendungen/sternstunde-philosophie/mann-oder-frau-eine-frage-des-gefuehls
/////////////////////////////////////////////////////////////////
Filmpremiere "We need to take guns" über das Internationale Freiheits-Bataillon in Rojava
27. Januar 13 Uhr Kino Xenix Zürich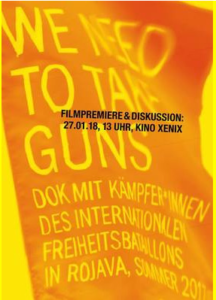 "… We need to take guns…" entsteht im Sommer 2017, zusammen mit den vier das Internationale Freiheits-Bataillon (IFB) tragenden revolutionären Organisationen: BÖG, TKP ML/TİKKO, MLKP-Rojava und IRPGF.
Wir reisen von Qamischlo über Serêkaniyê nach Rakka ins Fronttabûr des IFB. Dort führen wir mit zahlreichen anarchistischen, antifaschistischen, kommunistischen und antiimperialistischen Internationalist*innen aus der ganzen Welt Diskussionen über Motivationen, revolutionären Internationalismus sowie Strategie und Taktik des in Rojava geführten Krieges und was wir daraus lernen.
Ein Film von A. Barbara und A. Sofia
//////////////////////////

IN MEMORY OF LEYLA, FIDAN and SAKINE

  // ////////  /////// ///////   ////////  /////////// / //  /  ///////////////  //////////
…and the princess* saves herself in this one.
and in this one, too. and again. a good rest, loads of joy a few good lovelace. stories. and then stand up for the light years to come. resilience and write your own        ending…

:_:::_:__:_:_:_:__:::::__:__:_::::::__:::___:__:____:_:_:_:____::::__:_:_:_:_:_:_:::::::::::____:__:_
TONIGHT 21.12.2017 AT BLAUES HAUS: KRUDAS CUBENSI LIVE! don't miss this event! with DJ_anes Maruja & Scarlett and more…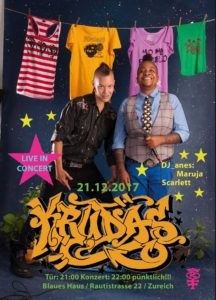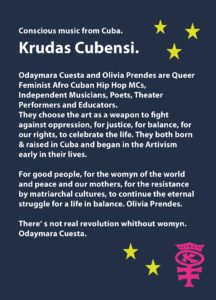 "_"_"_"""_"_"___"_""_"__"____"__"_"_"_"____"_"_
und_wir_kritisieren…  – von OLA –
Ich kritisiere in aller Schärfe, alles was um mich ist.
Man wird sagen, ich sei verrückt oder des Lebens überdrüssig.
Doch...
Auch Du wirst Leute kritisieren, die sich die Freiheit zum Vorwand nehmen Rassismus zu verbreiten.
Auch Du wirst ein Leben kritisieren, in dem Du zu zwei Bitterkeiten gezwungen wirst und Dir dennoch das Wahlrecht genommen wird.
Auch Du wirst ein Leben kritisieren, in dem die Arschlöcher heiliggesprochen und die Edlen verflucht werden.
Auch du wirst ein Leben kritisieren, dessen Wasser sich mit Blut seiner Menschen vermischte, und dessen Erde nicht mehr genug ist zur Bedeckung seine Verstorbenen. 
Auch Du wirst Leute kritisieren, die Dich bedürftig gemacht haben und Dich dann schamlos eine Bettler nennen.
Auch du wirst ein Leben kritisieren, das eine ganze Generation voller Ignoranz und Gewalt geschaffen hat.
Auch Du wirst Leute kritisieren, zu denen du gezwungen warst zu gehen, ihre Schuld vergebend, nur damit sie dann Deine Überzeugungen und Gewohnheiten verändern.
Weil ich alles kritisiere, kritisiere ich auch meine letzte Zeile für ihre Verrat an mir. 
Doch ihre Tat wird etwas Gewöhnliches in dieser Relalität.
Und so gibt es Frauen, die vergawaltigt werden und Präsidenten, die betrügen und Kinder, die abgeschlachtet werden, und Präsidenten, die betrügen und Greise, die gedemütigt werden und Präsidenten, die betrügen und Jugendliche, die der Blüte ihrer Freude aus dem Leben gerissen werden und Präsidenten, die betrügen und Heimat und Erde, die sie verkaufen.
Ola ist 21 Jahre alt und kommt aus Aleppo, Syrien. Ihre Kindheit hat sie in Aleppo verbracht, und sie ist froh, aus einem Land zu kommen, das reich an Kultur ist. Sie ist seit beinahe zwei Jahren in der Schweiz. Eim Teil von ihr ist zufrieden, weil sie hier ist, und ein Teil hat immer Heimweh. Das Schreiben ist ihr Leben. (aus RosaRot – Zeitschrift für feministische Anliegen und Geschlechterfragen, Herbst 2017)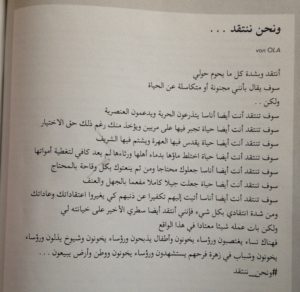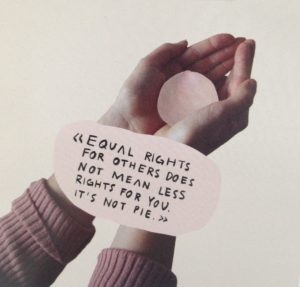 //——————————//—————————–//
FRAUEN*RÄUME – PODIUM und DISKUSSION
FRAUENRAUM, BERN
Samstag, 21. Oktober 2017 um 18:00 Uhr
offen für alle Geschlechter
"Frauen*räume subito!" Gestern – heute – und was ist mit morgen?
Anlässlich des 25-jährigen Jubiläums des Frauenraums der Reitschule werfen wir mit ehemaligen und aktuellen Aktivist*innen einen historisch-feministischen Blick auf die Relevanz und Bedeutung von Frauen*räumen und setzen uns mit aktuellen Diskussionen über Frauen*räume in linken Strukturen auseinander.
———————————————————————————————————————–
Los pueblos oprimidos y el derecho de autodeterminación
Luststreifen – Queer Film Festival Basel – The Future is Queer
28. September – 1. Oktober 2017, neues kino & kult.kino basel

————————————————————————————————————————
22.-24. september 2017 im frauen*raum bern
wie gefühlen im politkontext politieren?…!*
—————————–
16.9. 2017 um 14Uhr
BUNDESPLATZ, BERN
KEIN MENSCH IST ILLEGAL!


Aufruf zum Internationalen Aktionstag gegen Feminizid!
Der kurdische Frauenrat Mizgin organisiert mit den kurdischen Frauen aus Biel und Fribourg ebenso eine Aktion am 3. August 2017 auf dem Waisenhausplatz um 17:30 bi

s 19:00 Uhr in Bern.
Lasst uns durch unsere gemeinsame Organisierung den 3. August zum internationalen Kampftag gegen Feminizid machen!
—————————————————————————————————————-
noch bis am 10. Juli unterschreiben!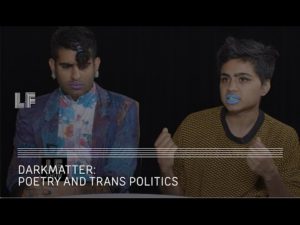 18.06.2017 4. SAKINE CANSIZ Frauenfestival
KASERNENAREAL, ZÜRICH
https://outofaction.blackblogs.org/
///////////////////////////////////////////////////////////////////////////////////////////////////////////
Marscha P. Johnson
https://thequeerthing.noblogs.org/
///////////////////////////////////////////////////////////////////////////////////////////////////////////
YOUR PERCEPTION IS NOT MY REALITY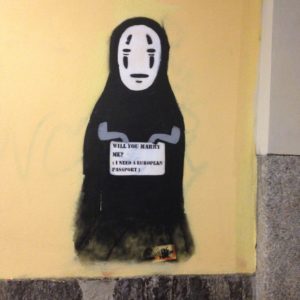 ******************************************************************************************
"WO UNRECHT ZU RECHT WIRD, WIRD WIEDERSTAND ZUR PFLICHT" B. Brecht.
///////////////////////////////////////////////////////////////////////////////////////////////////////////
Frauendemo zum internationalen Frauenkampftag:
"Wir waren viele, wir werden mehr und wir kommen wieder!"
http://www.frauenbuendnis-zueri.ch/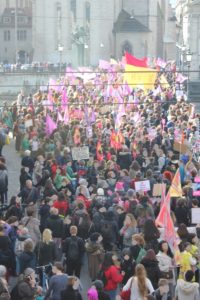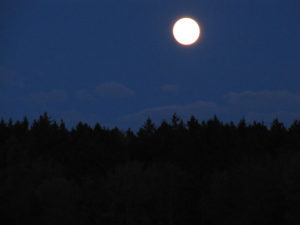 11th OF MARCH WOMYN*STRUGGLE RALLY!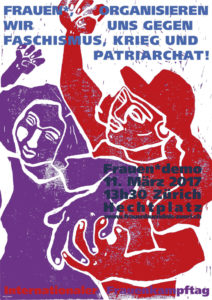 TUNE YOUR RADIO on LORA 97.5MHz IN SOLIDARITY WITH THE LOCAL and WORLDWIDE PROTESTS OF WOMEN AGAINST FASCISM, WAR and PATRIARCHY!

http://www.lora.ch/programm/tagesprogramm?playday=2017-03-08
******************************************************************************************
SURROUND YOURSELF WITH VISIONARY PEOPLE WHO ARE NOT INTERESTED IN BEING RIGHT BUT RATHER WHO INSPIRE A MUCH NEEDED CONVERSATION AND ACTIONS.  (Fork Burke)
******************************************************************************************
******************************************************************************************
if we look at the world from a great high, i mean as high as from space, a satellite picture or so, we don't see the lines that we find on maps. we see the beauty of colors made by the alternating presence of water, land, mountains, huge forests, deserts and clouds. all we see is a ball that spins slowly, without borders.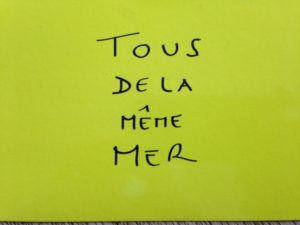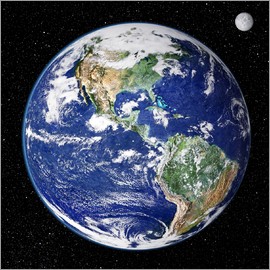 ****//*************///*************//*************///***************//***************///****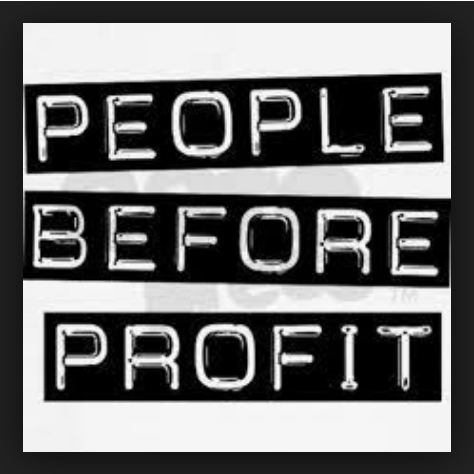 HOME by WARSAN SHIRE

no one leaves home unless
home is the mouth of a shark
you only run for the border
when you see the whole city running as well
your neighbors running faster than you
breath bloody in their throats
the boy you went to school with
who kissed you dizzy behind the old tin factory
is holding a gun bigger than his body
you only leave home
when home won't let you stay.
no one leaves home unless home chases you
fire under feet
hot blood in your belly
it's not something you ever thought of doing
until the blade burnt threats into
your neck
and even then you carried the anthem under
your breath
only tearing up your passport in an airport toilets
sobbing as each mouthful of paper
made it clear that you wouldn't be going back.
you have to understand,
that no one puts their children in a boat
unless the water is safer than the land
no one burns their palms
under trains
beneath carriages
no one spends days and nights in the stomach of a truck
feeding on newspaper unless the miles travelled
means something more than journey.
no one crawls under fences
no one wants to be beaten
pitied
no one chooses refugee camps
or strip searches where your
body is left aching
or prison,
because prison is safer
than a city of fire
and one prison guard
in the night
is better than a truckload
of men who look like your father
no one could take it
no one could stomach it
no one skin would be tough enough
the go home blacks
refugees
dirty immigrants
asylum seekers
sucking our country dry
niggers with their hands out
they smell strange
savage
messed up their country and now they want
to mess ours up
how do the words
the dirty looks
roll off your backs
maybe because the blow is softer
than a limb torn off
or the words are more tender
than fourteen men between
your legs
or the insults are easier
to swallow
than rubble
than bone
than your child body
in pieces.
i want to go home,
but home is the mouth of a shark
home is the barrel of the gun
and no one would leave home
unless home chased you to the shore
unless home told you
to quicken your legs
leave your clothes behind
crawl through the desert
wade through the oceans
drown
save
be hunger
beg
forget pride
your survival is more important
no one leaves home until home is a sweaty voice in your ear
saying-
leave,
run away from me now
i dont know what i've become
but i know that anywhere
is safer than here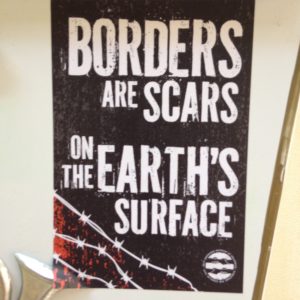 ///////////////////////////////////////////////////////////////////////////////////////////////////////////